Wedding reception of your choice
STAY >Your own wedding reception
Ryokan Taishoro is also a wedding reception hall.
After the ceremony of Ohmiwa jinjya Shrine, a festive party will be held in the hall and guest rooms of Ryokan Taishoro. We accept a wide range of events, from small-group lunches to large-group receptions. The wedding ceremony at the place where the country of Japan was born will surely be exceptional.
We sincerely look forward to your reservation.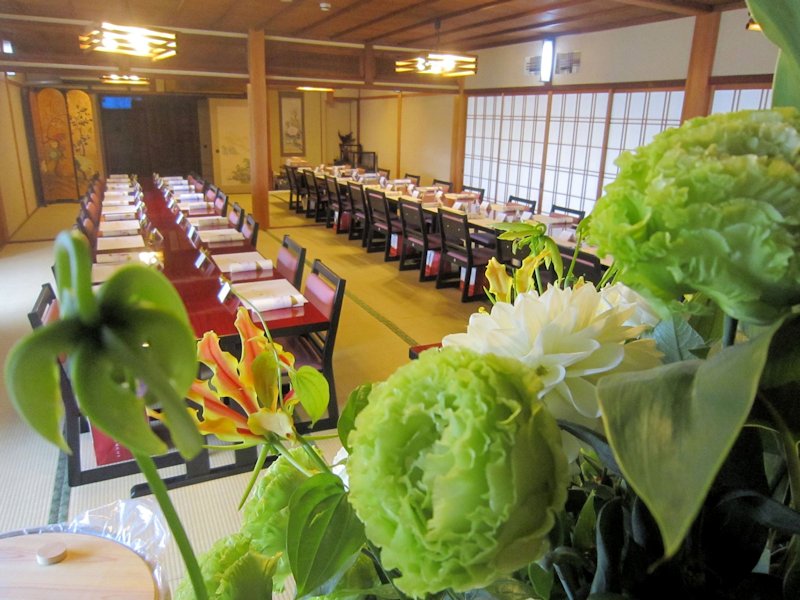 A large hall on the second floor that can accommodate 50 people.
Decorate the hall with flowers to add to the atmosphere of the reception hall. You can also order a festive sake barrel. We will be happy to help you with your wedding reception.
Increasing international marriage
International marriages are increasing, probably reflecting the times.
When it comes to weddings at Oomiwa Shrine, it seems that there are many patterns in which either the bride or groom is a foreigner. In the near future, a couple will be born in which both the bride and groom are foreigners.
A large lily flower decorates the Takasago seat.
Meal time is not fixed. The meal course will be served in about 2 hours, but there will be no additional charge depending on the length of stay. Please enjoy the chat to your heart's content.
A bouquet for parents
Flowers that decorate the reception hall will be prepared at an optional fee. We also have a bouquet for parents to give thanks, so please let us know if you need it.
The number of wedding receptions without a moderator is increasing. Let's devise a wedding reception that will please the attendees.