Various types of stone lanterns
STAY >Beautiful courtyard overlooking the window
Stone lanterns are lined up in the courtyard at exquisite intervals to balance the whole.
Flowers bloom throughout the seasons, mainly in spring and autumn, adding color to the quiet courtyard. In the courtyard, there is a corridor, and you can feel the beauty of Japan while going back and forth between guest rooms.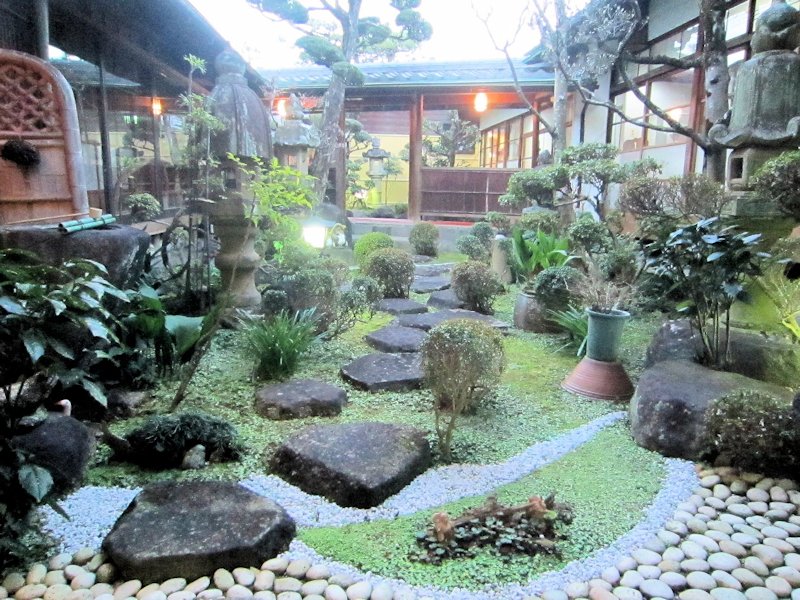 The stone lantern on the left side in the foreground represents a heron standing on one leg. A lantern with the characteristics of sloped shoulders. At first glance it looks lonely, but it is also attractive.
Stones of different shapes and sizes are lined up casually, leading to the corridor beyond. White stones are paved in the foreground, expressing the flow of water.
You can even get off the courtyard and take a picture.
Getas(Japanese wooden clogs) are placed on the porch, and you can get down to the courtyard and take photos.
When walking in the courtyard, I hope that you can pass over a stone called "Tobiishi(stepping stone)" if possible. If you wish to take a commemorative photo, please do not hesitate to ask. I'll be happy to take a photo as a memory of your trip.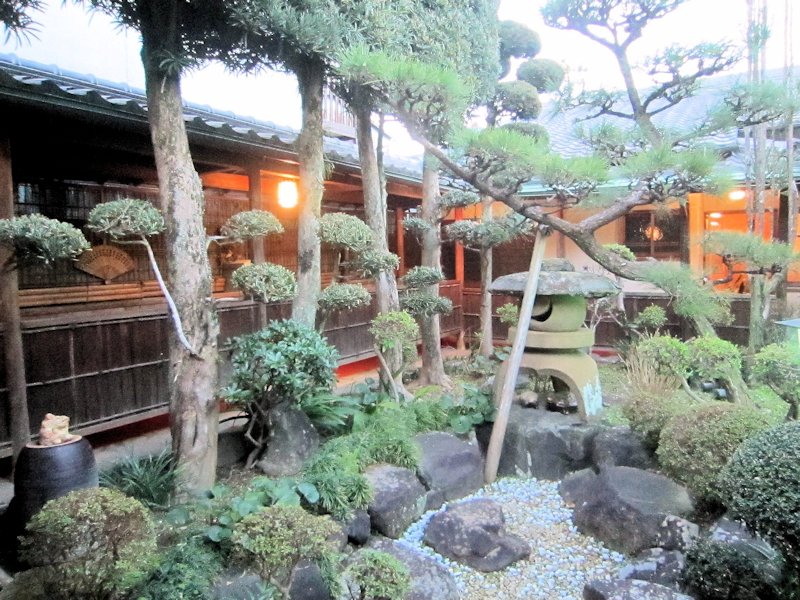 The courtyard extends from the corridor to the back.
This round stone lantern has a carved moon shape. The other side is carved in a circle and represents the sun. The moon and the sun are a pair, and I feel a Japanese sense of aesthetic. In the West, symmetry that is exactly the same is preferred, but in the Orient, something that deviates slightly is meaningful.
Dinner with a view of the courtyard
You can see the courtyard from the 12-tatami Japanese-style room. There are only 3 rooms which you can see the courtyard while in the room.
The guest rooms have a paper sliding door overlooking the courtyard, and you can enjoy dinner overlooking the courtyard that emerges from the lights.